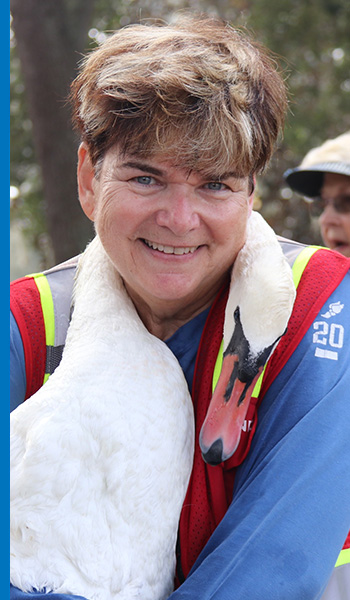 Commissioner Patty Sheehan graduated from Seminole State College and the University of Central Florida with a B.A. in art. She worked full time and put herself through college. She bought her first home at the age of 21. Her currrent home is in Colonialtown, where she has lived for 30 years.
Commissioner Patty Sheehan was first elected to the Orlando City Council in 2000. She served as President of the Colonialtown Neighborhood Association and comes from a servant leadership background. She is also proud to dedicate her career to public service. Commissioner Sheehan represents Colonialtown North and South, Dover Shores West, Lake Como, Lake Davis/Greenwood, the Lake Lawsona Historic Neighborhood Association, South Eola, The Lake Eola Heights Historic Neighborhood Association, Lake Cherokee, Lake Copeland, Albert Shores, Hampton Park, Lake Holden Terrace, Millenia, Wadeview and Delaney Park, Downtown, Thornton Park, Wedgewood Groves and Conway, Pineloch, Lancaster Park, Southern Oaks, Lake Terrace, Bel Air, Lake Weldona ,Brandy Harbor, Milk District neighborhood, and most of the historic districts. Also included are the Central Business District, South Orange and Division commercial areas, as well as Mills 50, Thornton Park, SoDo, Curry Ford West, and Milk District Mainstreets.

Commissioner Sheehan has been recognized by the Orlando Weekly, Watermark, and Orlando Magazine as Best Elected Official. She was listed in the top 25 Influential Women in Orlando Life Magazine. She has twice been a finalist for Downtowner of the Year, and accepted it on behalf of the Orlando community with Mayor Buddy Dyer for leadership after the Pulse nightclub shooting. She was awarded the Lifetime Achievement Award by the Center at the Harvey Milk Diversity Awards. She has been listed 4 times in Orlando Magazines 50 Most Powerful People.
She is proudest of her compassionate leadership of Orlando after one of the worst mass shootings in American history. She worked tirelessly during the Covid pandemic to provide testing and vaccination sites for residents. She was the first openly gay elected official in Central Florida, and continues to support the LGBT community during challenging and restrictive legislation directed at marginalized communities. She counts restoring the Lake Eola Fountain, the Orlando Urban Trail, saving Constitution Green, the swan vaccination and care program at Lake Eola, and the bicycle beltway as some of her proudest accomplishments. She is an urban agriculture advocate, and championed community gardens and urban chickens. She worked with the Trust For Public land and Orlando Land Trust to add additional acreage to Lake Eola Park. She is a huge supporter of small businesses and Orlando's Mainstreets. She also lobbied and passed a Florida State Law allowing Doggie Dining on patios in downtown Orlando.
Commissioner Sheehan enjoys gardening, paddleboarding, and riding her vintage Vespa and 1968 VW bug around Orlando. She is a proponent of the arts and culture in Orlando, and exhibits her "Bad Kitty" paintings as well as ceramics and stained glass at area art shows. She lives in her 1928 bungalow with her rescue dog Sienna, a diva kitty named Nina Simone, a flock of urban chickens, and a goldfish.